Historical novel
This powerful tale set during the Great War, recounts a brutal story of love and friendship between a simple fisher girl and an injured German. There are no stones left unturned in this gritty portrayal of life as it really was in the Yorkshire fishing vilage.
About this book
Amy's world is a cold and inhospitable one of treacherous cliffs and lethal tides that can trap the unwary. The hostile villagers think that she doesn't understand much, but she knows more about that coastline than anyone else there.
The unpredictability of the sea brings both loss and discovery into Amy's life that changes it forever. The storm takes the one person she truly loves and yet brings her a stranger that transforms her childhood innocence into the passionate reality of a young woman.
The danger is that it's 1915, England is at war and the stranger is German.
Click here for a bigger taste of the story
The bitterness of reality,
with no fancy thrills
Excellent plot, fiery characters and solid writing — Cyril Patrick Feerick
The language was like a pop-up picture book opening up scene after scene. — Alana Woods, author
A pretty perfect read. — Susan Navas, author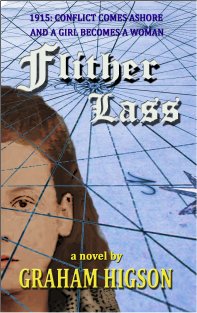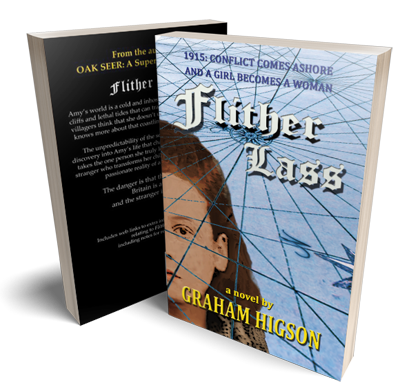 Flither Lass extras
Trailer
Further reading
Some of the following books are now out of print, but may possibly be sourced from sellers on Amazon Marketplace, Abebooks, and so on.
War off the east coast
Find and Destroy by Dwight R Messimer (2001), Naval Institute Press
Fishermen at War by Leo Walmsley (1941), Collins
Working women
Love and Dirt by Diane Atkinson (2003), Macmillan
Watching Hannah by Barry Reay (2002), Reaktion Books Ltd
Robin Hood's Bay
A History of Robin Hood's Bay by Barrie Farnhill (1966) North York Moors National Park
Robin Hood's Bay: As I have known it by R P Pennock (2002) Caedmon of Whitby